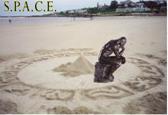 Latest News
The Southwestern Pennsylvania Astrology Consortium for Enlightenment (S.P.A.C.E.) will next meet on Sunday, April 30th. Monthly meetings are held on the last Sunday of each month at 10:00am. These meetings take place South of South Hills Village in a private home just off of Rt. 19. All interested in Astrology are welcome. Call (724) 622-8079 for details.
April Workshops: Free Workshop with a Free Mini-Reading!
Topic: "Your Sun Sign & Your Relationships"
With our wonderful hosts, Kate and Brad Silberberg at: "The Mesa Creative Arts Center"
Friday April 14, 7:00-9:00pm - 30 Miller Business Park Drive, Burgettstown, PA 15021 - (724)947-3097
This workshop is geared towards helping you understand your relationships. Why do you mix well with certain signs?
Why are some relationships a struggle? Learn what is at the basis of your behavior and why you do what you do and
need what you need. Learn to understand your partner better.

You know how you're playing checkers and you say, "King me!"? The Steelers are King. I did get that one right! A week before the Super Bowl, I predicted a Steeler victory in the Seattle newspaper. Read the article!
http://www.kingcountyjournal.com/sited/story/html/228830
(Well, I did have a 50-50 chance…)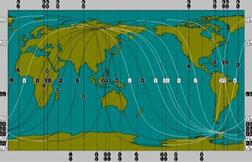 New Feature! Starself Map Reports!
Now available online at:
http://www.starself.com/starselfmaps.html
By superimposing your birth chart over a map (USA, Europe, the whole globe, etc.), it can be identified as to which geographical locations would be best for you in specific areas of interest. Starself Maps specify where you are most likely to succeed in business, love, health, self-promotion, creativity, etc.
Planetary Events (all times are Eastern)

The biggest nemesis to good Astrology is the daily horoscope, and here I am attempting to do one. Well, sort of. I'm not talking about the kind the celestial pabulum type, new-age hodge-podge pop-psychology. Try to say that thrice. What I am saying is that you, the non-Astrologers, are quite vulnerable to the whim of us "experts" to ascertain and translate what is happening in yon heavens. My attempt here is to reach deep and illuminate what I think is really happening with the Planets, i.e., what is "The Real Story."
Simply put, what Uranus and fellow planets have been up to over the past five or six months has certainly stirred up a lot of chaos, insisting from within us that we liberate ourselves from restriction – most likely self-imposed. Astrologically speaking, this pressing urge has been symbolized for each of us in one of the twelve "houses" in our charts, or areas of life. (See more on houses in the last issue.) That process, I believe, came full circle in March. Now, along comes this Total Solar Eclipse on March 29th in Aries - the sign following Pisces. Aries is the flashpoint of the Zodiac, the beginning, the primary spark that ignites. This symbolizes launching of new plans, an outgrowth of the freedoms earned from our personal Uranian emancipation. Therefore, each of us hopefully had liberation in one field of our life, and now we are adjusting to the release and expression of those energies in the ensuing house. Unfortunately, some people didn't succeed at aligning with their own Uranian energies, unable to free themselves from their particular shackles. Those who weren't flexible enough, too deeply rooted, or simply not able to transcend their limitations are suffering further fracture.
In doing this, I try to forecast the weather - you sail the boat. Even though the event happened in March, its effects will be the dominant theme of April and beyond. As I sat and watched the phenomenal Total Solar Eclipse today on Web-relay I was stunned by its perfection, power and significance. This is no mild Eclipse. It marks an extremely poignant milestone in our Spiritual growth. The old is left behind – it can't even hear you say goodbye now.
Below is an itemized description of how I see this entire drama unfolding for each Sun Sign in April. The
"–OR-" listed below is what is likely to occur if all didn't go as planned during the Uranian urge to free ourselves.

Aries 12th /1st houses - Great tensions from the past six months, largely unconscious, are on their way out and have left you with relief and a sense of well-being. Now, you want to simplify your life and just be yourself. What great advise. –OR- You are still reeling from a peculiar time of uncertainty and are busy blaming others for your lot. Not good advise.

Taurus 11th /12th houses – You have recently liberated yourself from restrictive friends or groups. Also you are simply letting people know now that you expect more from them. Now, you're sensing that the doors to Spirit are opening wide and you feel freer to explore. Go! –OR- You are inundated with a feeling that you're being misunderstood. And this is forcing you to dig deep to find out why. It may be something you're broadcasting unconsciously that is causing you to be out of sync.

Gemini 10th/11th houses – Dear Butterflies, It's been a time of it getting free from all of your worldly entanglements and all the expectations that have been placed upon you by your position in life. Now, it's time to think about you - what you want. You are free now! Can't quite believe it, huh? –OR- You have failed to fight for your rights and sign your Declaration and now you're in a tailspin being controlled by "outer forces", which of course, are imaginary.

Cancer 9th/10th houses – You have been so busy for so long now trying to get others to see your point of view. All of a sudden, you are free and being forced now to practice what you've preached! You've complained about how others have been going about things – now is your chance to do things your way. Are you up to the task? –OR-
Still the marionette, the family and bosses continue to pull the strings.

Leo 8th/9th houses – Things have been very difficult in your deeper relationships. You almost lost yourself in one. Now, you are resolved to reshape your ideas about them and make room for your own ideas. You have found that love is not just merging, it also demands an independent stance and mutual respect. –OR- You're going to have to continue to try to find yourself amidst the philosophies and belief systems of others.

Virgo 7th/8th houses – You have had to extricate yourself from the public and redefine just what you owe and to whom. It was not easy because not only were you being stuffed back into your familiar roles but you were all to ready to oblige. Not now. You need more out of relationships now, not just same-ole, same-ole. You are not in comfortable waters now. This is no place for logic Dr. Spock. –OR- You are going to face more pressure from your partner to open up more emotionally which just can't be accomplished in your workshop with a table saw.

Libra 6th/7th houses – Personal integration has been foremost on your mind for a good while. You have finally decided to stop driving yourself crazy with your new diet and exercise program and do some living for a change! That's much more to your liking. Yes, it definitely warrants a shopping trip. –OR- Lacking personal responsibility, you are experiencing stress when your mate can't take it for you.

Scorpio 5th/6th houses – Just when you have finally freed yourself enough to go out and play you find out that there are some ramifications to your recent jaunts. All is fine and dandy now. Yet, go ahead and clean out that garage – throw away all that stuff you don't need. You're preparing for a fun-filled summer. –OR- Your light is dimming under that bushel and it seems like you're starring in "The Shining" – All work and no play does make Jack a dull boy.

Sagittarius 4th/5th houses – Poor ole Sag - the Fun-Lovers haven't been having fun. You have had to deal with grueling family situations, but you just had to go through it. Your normal motto: "Let things slide", just didn't work and you've had to flat-out draw some hard lines with family members. You're much better off because of it. Go party! You didn't need permission, did you? –OR- You're just not yourself. Check your emotional baggage at the airport so it will get lost on your next trip to Fiji.

Capricorn 3rd/4th houses – Well the old goats have been trying so hard to get free of rigid thought processes. Hard to do – there's no roadmap, is there? But now that the mental inmates have managed to at least break those boulders into manageable-size rocks, you're hell-bent on taking care of your emotional needs. –OR- Good luck. If you keep on dwelling on what you don't want, that's exactly what you'll get, or, as Dr. Wayne Dyer puts it, "If you keep on doing what you've always done, you'll keep on getting what you've always gotten."

Aquarius 2nd/3rd houses – You've really been trying to get financially liberated and/or you've done well at improving your self-worth. Now, you can feel freer to explore your options in life. Go ahead, buy that new purple convertible. –OR- Take things for granted and find value in nothing. The Water-Bearer's need for mental stimulation begins with the appreciation of ideas.

Pisces 1st/2nd houses – Ah, the Ultimate sign. The place where the revolution took place – Pisces. After a long year of fighting for and adapting to the unfamiliar waters of SELF-WORTH, you are finally seeing how it is OK. Now you value all things because you value yourself. Issue some public stock and sell yourself – you're finally finding out how valuable you've always been. –OR- You've just not been able to believe in yourself. You've confused surrendering to the flow of life with Martyrdom. Cher said it in the movie Moonstruck, "Snap out of it!"


4/6-8 Mars opposes Pluto



, Tsquare to Mercury in Pisces


. The Mars/Pluto combination certainly makes us feel like renting a bulldozer and, or, ah…, well, like strangling somebody. While this is a strong indication that we really need to assert ourselves, we must keep a firm grip during this time. Fights or arguments could really escalate. Be careful and don't underestimate your foes. With the involvement of Mercury in Pisces we would all be very well served by keeping a cooler head and thinking things over before taking action. If you owe someone money, look for them to come collecting. Also, this is a time to discuss sexual tensions and work toward loving understanding and compromise (Pisces).
4/8 Moon opposite Neptune



, T-square to Jupiter

 at 17˚Scorpio

. This opposition will tempt us to carelessly (Jupiter) express confused feelings (Moon/Neptune) and jump to conclusions. Make sure that what you feel is valid right now. You will have a tendency to blow off any over-sensitivities right now. Maybe not a bad idea.

Special note to Baby-Boomers: Those of you born approximately between 1949 and 1954 have your Natal Neptune around this degree in Libra. And when a lunation (Full Moon, New Moon, Eclipse) shines on your Neptune there is quite a possibility of your dirty laundry being aired – and I do mean in public. So one might want to pack up the car and head for the Laundromat. Don't fool yourself, Neptune cannot hide from lunations. Just watch the News, note their ages, and watch the scandals…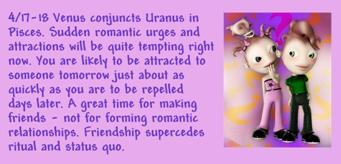 It should be a very welcome relief as we enter the soothing sign of Taurus. After months of
tumultuous, jagged, energized change, the Bull Muse speaks to us of earthiness. It is the sign
of creature comforts and stability. Relax in your easy-chair, take a bubble-bath, get a massage.
Have a great meal or two or three, big ones, and take your time. Through the 24th the Sun
will square Saturn. This will bring pressure on the wallet. You will be wise to have a few coins
stashed (all Taureans do). Neck pain is common too. Be careful in China shops.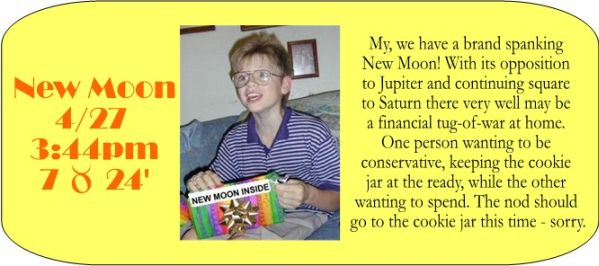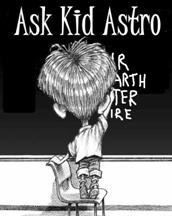 Dear Kid Astro, What do the "four elements" mean?
The elements Fire, Earth, Air, and Water are four of the basic building blocks of Astrology. Each Zodiacal sign belongs to one of the four.
FIRE signs (Aries, Leo, Sagittarius) are dynamic, active, confident and usually have a strong sense of self. They can be arrogant, pushy & know-it-alls.
EARTH signs (Taurus, Virgo, Capricorn) are dependable, practical and hard-working.  Often times they are rigid, stuffy, and resist change.
AIR signs (Gemini, Libra, Aquarius) are the thinkers and communicators. Sometimes they are found to be flighty, indecisive & argumentative.
WATER signs (Cancer, Scorpio, Pisces) are emotional & have deep feelings. They can sometimes be moody & hypersensitive.
Each person's chart has a mixture of these four energies. A detailed chart analysis needs to be done in order to determine your constituency.
In a perfect world, your chart would have enough:
FIRE to be active and confident, but not burn others by being overbearing, selfish and arrogant. Lack of FIRE indicates laziness, a lack of productivity, or simply low energy, self-esteem or zest for life.
EARTH so that we are productive and "down to earth". Too much and we become glued to the status quo, afraid of change. Not enough and we can't get things done, suffer from impracticality and tend towards irresponsibility.
AIR that we are intelligent. We are educated, we read, and communicate well. Too much and we may be flighty and superficial. Not enough and we just don't have a strong mind or communication skills.
WATER the strongest and most important element. We have love in our life and are able to care for others and ourselves. This holds the critical element of compassion. Too much and we can be too touchy, irrational or even unstable. Not enough and we can be barren, cold and hard.
Few people have a perfect balance of the four elements in their natal birth charts. It is the Astrologer's job to point out areas of imbalance and recommend ways to counteract.
Next month we ask Kid Astro, "How do we know what Sun-signs are 'best for us'"?

Claudius Ptolemy has a riddle for us:
Mr. East, who lives in a US State bordering the Atlantic Ocean, is talking to his friend, Mr. West, who happens to live in a US State that borders the Pacific Ocean. One says to the other, "My, it's 1:30 here." The other man says, "Of course, it's 1:30 here too." How can this be correct?
(Both are at home. The answer appears at the end.)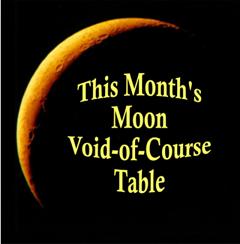 Void              Void
Date  Starts      Ends
----  ------    ------
4/01 10:52am -  6:49pm
4/03 10:24pm -  2:15am (next day)
4/05  1:19pm – 12:25pm (next day)
4/08  7:02pm – 12:58am (next day)
4/11 10:59am -  1:46pm
4/13  6:42pm -  1:08am (next day)
4/15  2:29pm – 10:19am (next day)
4/18  2:41pm -  5:13pm
4/19  9:15pm -  9:56pm (next day) Almost all day!
4/22  7:03pm – 12:43am (next day)
4/24  8:35pm -  2:12am (next day)
4/26  9:44pm -  3:27am (next day)
4/28  9:31pm -  5:58am (next day)
For more information on this subject, visit my earlier article, at: www.starself.com/newsletter2.html
Access my complete 2006 Void Moon table at: www.starself.com/rxvoidmoon.html
Free birth chart calculations are available at: http://www.alabe.com/freechart/
A free do-it-yourself Astrology program is available at: http://www.magitech.com/~cruiser1/astrolog.htm
Make sure to stay in touch with my web site at: www.starself.com and as always:
"May the planets be with you as you find your Starself!"
Rick
(Answer to the riddle: Mr. West lives on the Eastern side of Oregon where they don't play along, i.e., they are on Mountain Time while the rest of the State is on Pacific. Mr. East lives on the Western Panhandle of Florida where they are in Central Time. Normally, they have only one hour of time difference between their two locales. In the fall, while correcting back from Daylight Savings Time, a half an hour after Mr. East turns his clock back from 2:00am DST to 1:00am EST, a half an hour before Mr. West does the same, the phone rings…  Geesh.)