<![if !vml]>

<![endif]>
Rick DiClemente's
Astrology Newsletter
Volume 44, August 2009
(Download a printable .DOC version here)
<![if !vml]>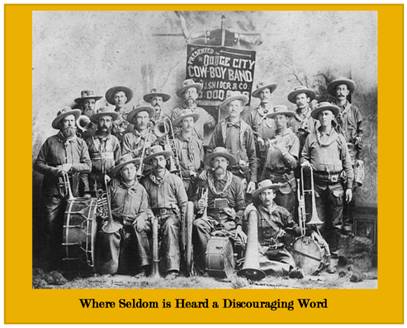 <![endif]>
<![if !vml]>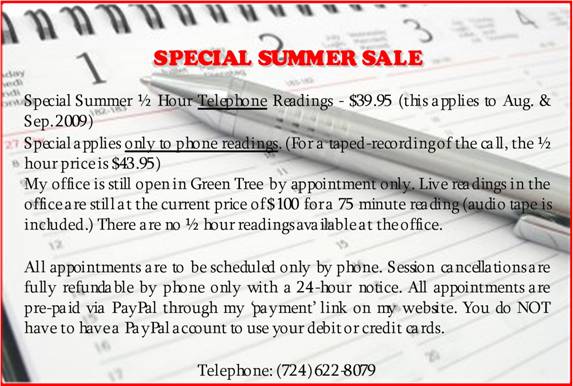 <![endif]>
<![if !vml]>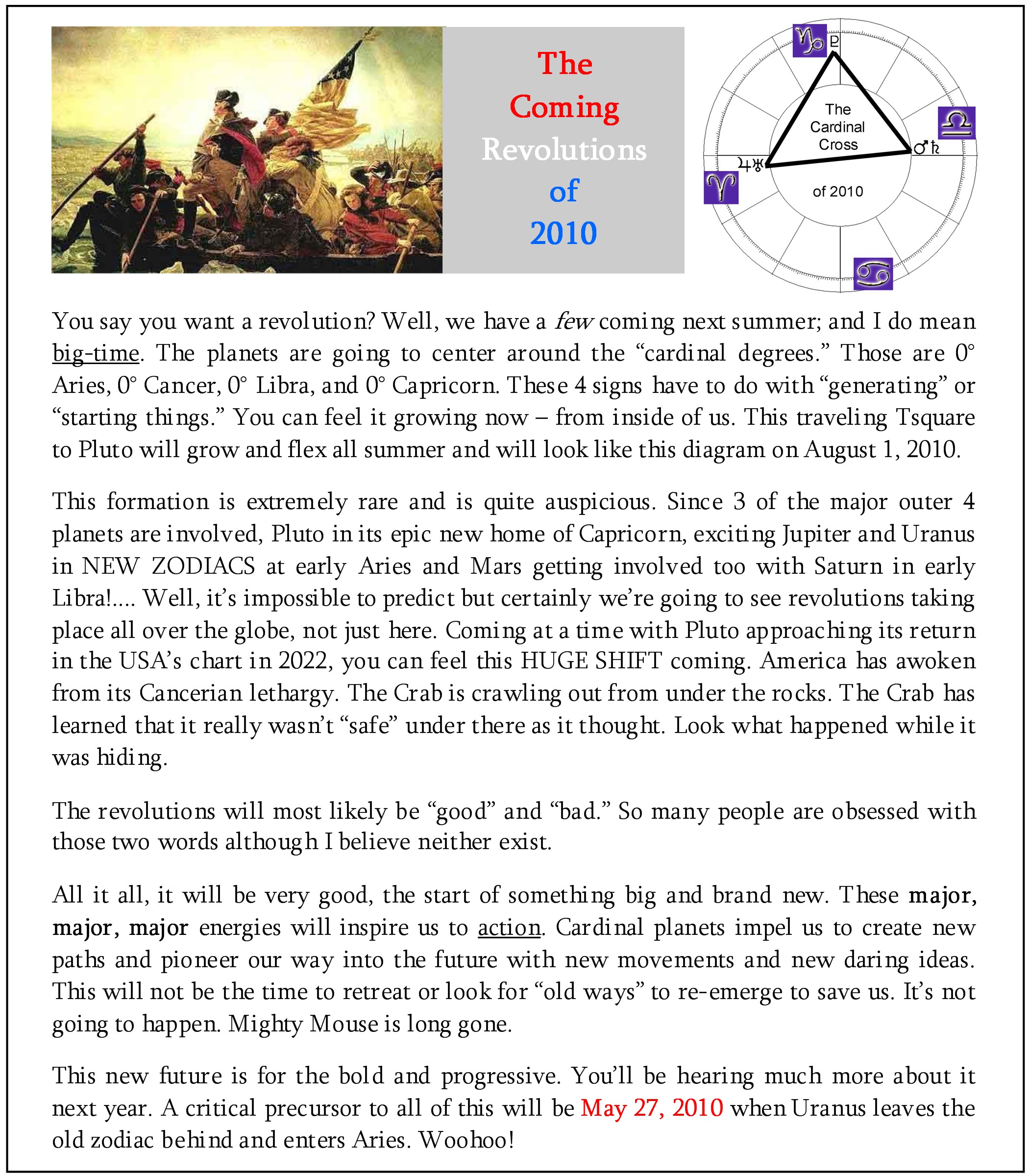 <![endif]>
<![if !vml]>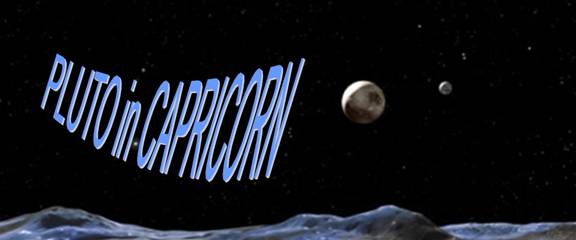 <![endif]>
Many of you have heard of about Pluto's entrance into the sign of Capricorn. Much has been written about it here and elsewhere. It's what's "shaking things up." It began on January 25, 2008 and symbolizes what huge changes are going on in our country and throughout the world. It will be with us until 2023. To learn more about it at various stages you can read our three articles that Cheryl Crise and I have written:
Understanding the basics about Pluto in Capricorn: http://www.starself.com/polapr08.html
Pluto in Sagittarius (1995-2008) vs. Pluto in Capricorn: http://www.starself.com/plsagcap.html
Pluto in Capricorn 18 months later: http://www.starself.com/plcap18moslater.html
<![if !vml]>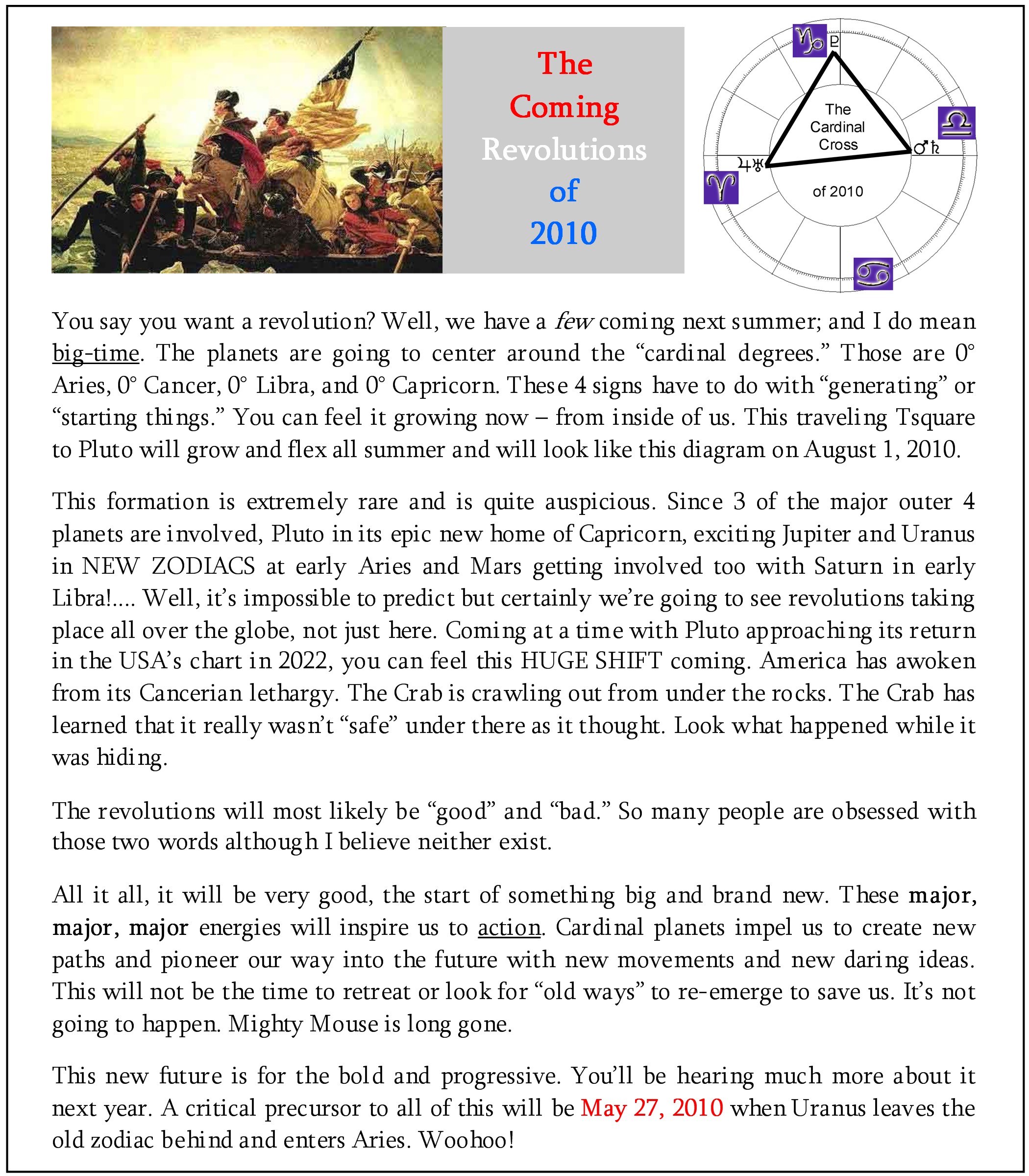 <![endif]>
And it also made it seem like the Age of Aquarius had arrived early.
<![if !vml]>

<![endif]>
<![if !vml]>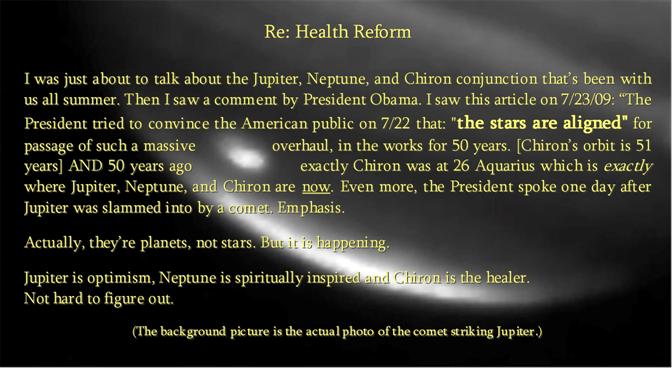 <![endif]>
<![if !vml]>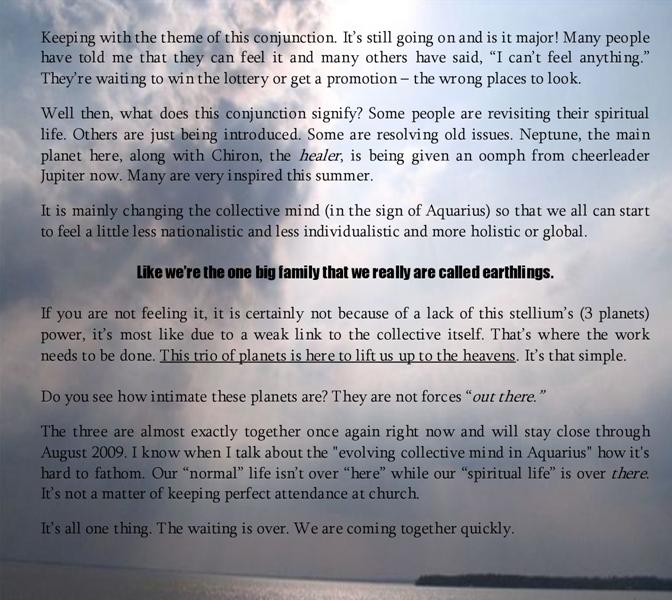 <![endif]>
<![if !vml]>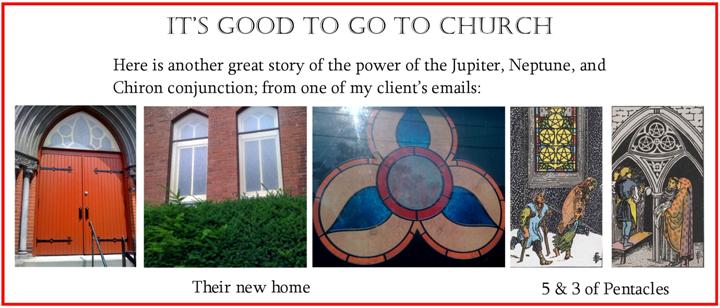 <![endif]>
"My husband I had a discussion on April 15th about what was enslaving us. We realized it was our house and our STUFF. We put our house on the market that week. The same day we made the decision to sell which was April 16, we learned of a funky loft that my brother-in-law found and thought we might like. We visited and made an offer for it on Sunday the 18th. We agreed with the loft seller to move in on June 15th. We looked at no other places.
That afternoon we also received a formal offer on our house which we accepted, also with a move in date of June 15th! We were free and clear of all contingencies and cleared for the sale on May 29th – all hurdles behind us.
[my notes: Jupiter, Neptune, and Chiron aligned almost precisely on May 25th at 26° Aquarius. My client's 4th harmonic (homes and property chart) has 26° Aquarius on the midheaven - the exact degree of the conjunction. Her natal chart has a large bucket pattern swinging from Chiron as the bucket handle at 26° Aquarius. This will be her healing.]

We began our move on June 12th and finished on the 15th. When we moved in we realized how disconnected we had become from each other – the three of us living in an 8 room 6,000 square foot home. We now live in what was the "great hall" of a church!! We love it there and I can see my family no matter what I am doing and it is wonderful to be so close to them.
The Tarot Connection - For a year prior to our move I kept dreading and drawing the five of pentacles in my Tarot readings. The image has the church with two lost souls outside in the cold. Well our church looks much like the one in the five of pentacles in the Waite Deck. [also note the 3 of pentacles] It has provided us with an amazing home and has an incredibly comforting vibe. I didn't even need to clear it with sage when we moved in.
The World Connection - It turns out that I had connected with the man who owns the property to do some other business months earlier. The day after I signed the lease, I happened to see his name and number on an envelope I had which had been lying on my desk for months! And, the woman who introduced me to the media buyer last year knows the church owner because her husband works for him and she actually got the church owner his first job in his current field. How weird is that!"
[my note: Jupiter opens "doors" for us quite effortlessly. One could say that Jupiter delivers our "good karma." It also rules churches as well as religion. Neptune, of course, is the strong spiritual planet and Chiron, our new friend, rules healing.]
<![if !vml]>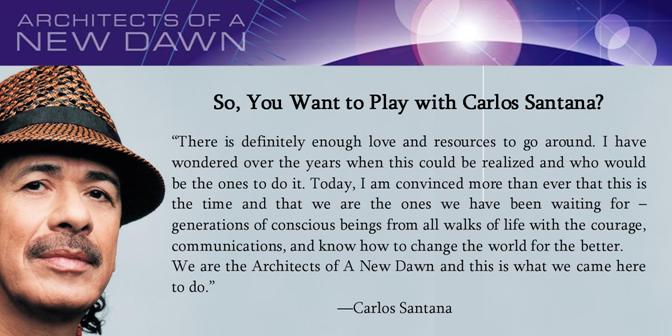 <![endif]>
Join him and the rest of US at:    www.aoand.com
There is no more "them."
<![if !vml]>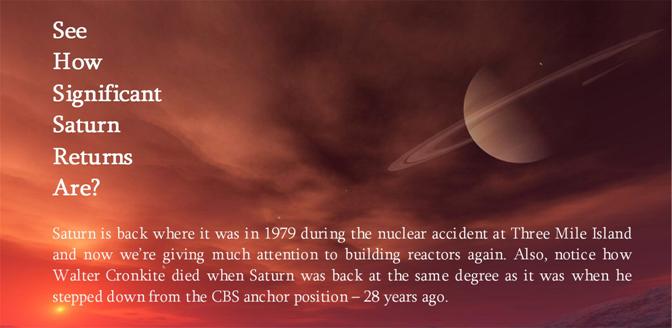 <![endif]>
<![if !vml]>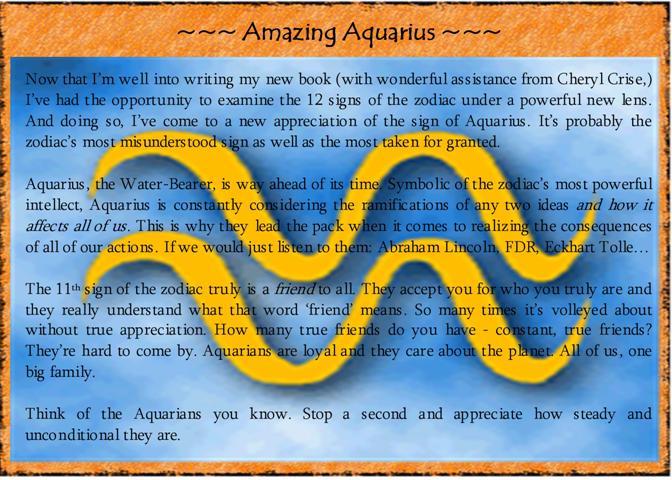 <![endif]>
<![if !vml]>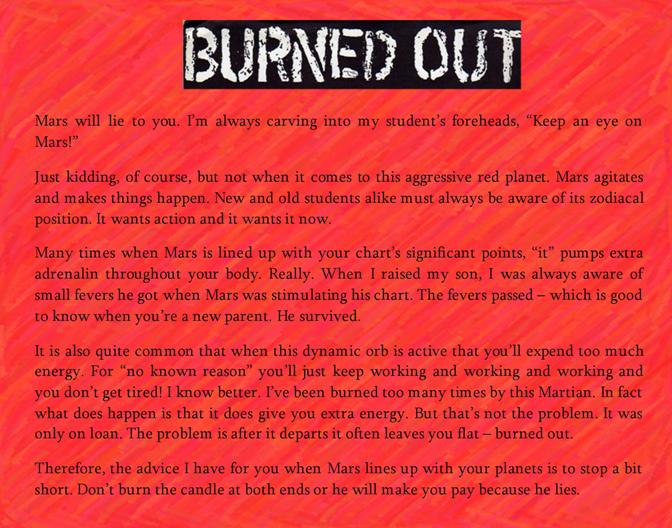 <![endif]>
<![if !vml]>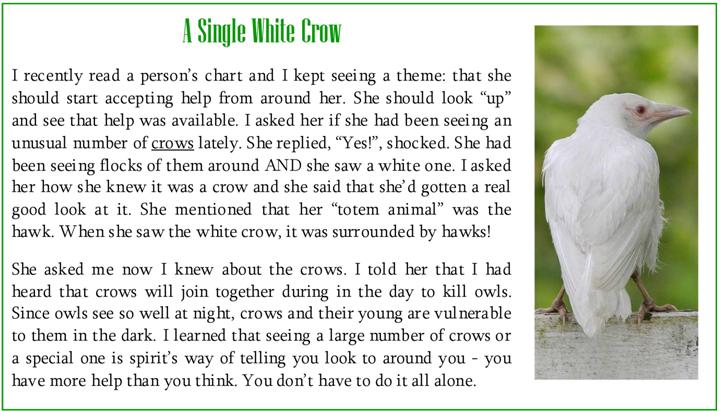 <![endif]>
<![if !vml]>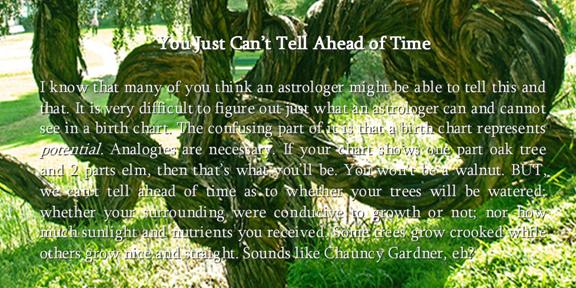 <![endif]>
And As for the Arts
<![if !vml]>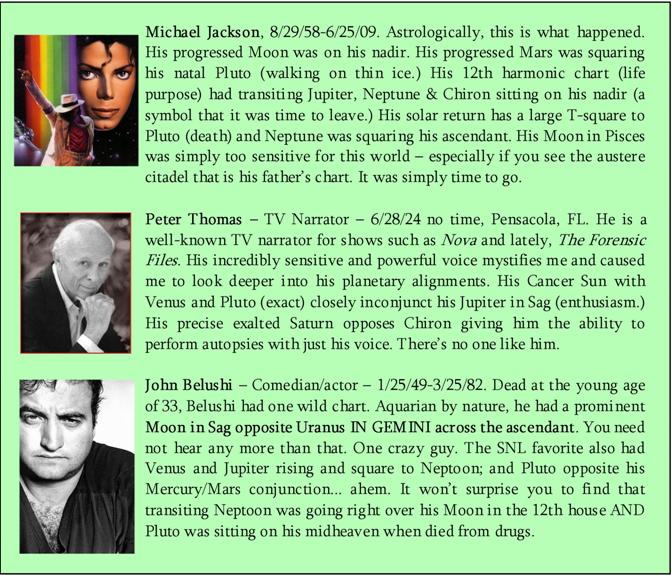 <![endif]>
<![if !vml]>

<![endif]>
8/5 Lunar Eclipse 13°h43' 8:55p – This one is hard to predict as are all things Aquarian. I think it will be a breath of fresh air. It will make us feel like the individuals that we are. Situations that stifle or oppress us will become intolerable. Free yourself and do what inspires you. Pay attention to what YOU want, not what's expected.
8/8 Moon o-o Saturn T-square Mars in Gemini – This could be wild following on the heels of the eclipse. Gemini energy is shaky at best and a T-square behind it will cause unpredictable results. Watch the stock market act erratically. Not a good time to make long-term plans. Best to expend that nervous energy with some physical activity. Computers go nutty.
8/12-17 Sun opposes Jupiter/Neptune/Chiron – This will focus us all on that major stellium that's been with us all summer. Expect valid, inspiring knowings to come from inside. Intuition is at a major height. This will be very subtle, yet strong. Put a LOT of faith in what your spiritual antennas pick up during this 5-day span.
8/20 New Moon 27°b32' – This lunation will bring the above paragraph to a peak. Look for MAJOR decisions to be made now that will help you to follow your spiritual leanings. Endings-beginnings, feed your soul now. With the Leo energy behind it, fill yourself with your self.
8/22 Sun enters Virgo 7:39p – Time to harvest, literally and figuratively. Virgo is a much underrated sign. It's a sign of inspiration due to its ruler Chiron. Virgo goes beyond the call of duty. Clean up your act all around you now. Make sure to take some vacation too and relax – don't try to relax.
8/25 Mars enters Cancer (and opposes Pluto) 1:16p – and I do mean right around . This will trigger Pluto again. Watch out for this one. This one can be dangerous. International nuclear issues could rear their heads again. We see once more how brooding energies that have been stuffed the over long-term are likely to erupt again, and they'll require action. Be careful what you say in family matters; you can't take it back. It will pass in a few days. Mars just won't let things be. Troublemaker.
<![if !vml]>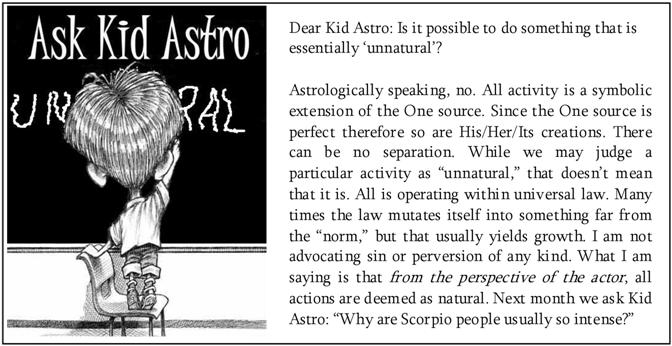 <![endif]>
Free birth chart calculations are available at: http://www.alabe.com/freechart/
The PA Dept. of Vital Records form for ordering your birth time/birth certificate is at: www.starself.com/birthtime
Make sure to stay in touch with my web site at www.starself.com and as always, "May the planets be with you as you find your Starself!" - Rick
2009 Rick DiClemente -  www.starself.com © - All rights reserved
PERMISSION MUST BE GRANTED BY THE AUTHOR FOR USE ON WEB SITES AND FOR OUTSIDE PUBLISHING