<![if !vml]>

<![endif]>
Rick DiClemente's
Astrology Newsletter
Volume 39, March 2009
(Download a printable .DOC version here)
Welcome to March. Wow, much of the month there are 5 planets in Aquarius along with the North Node. And Pluto is moving fast, getting all the way to the third degree of Capricorn already. Uranus and Saturn keep fighting it out, and boy is that showing. Why can't we all just get along Rodney?
Enjoy!
<![if !vml]>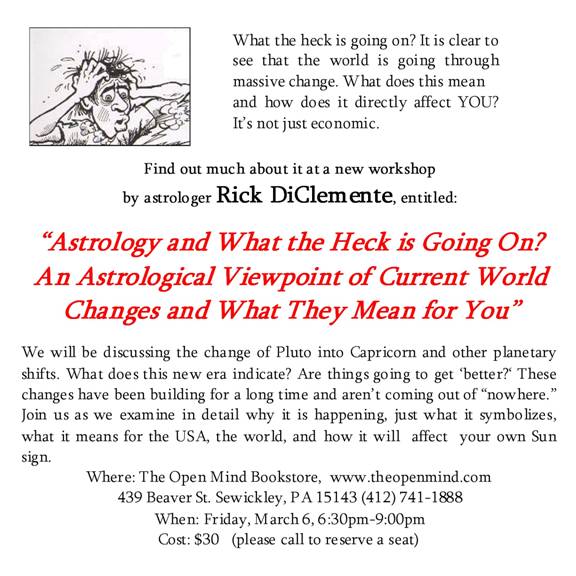 <![endif]>
<![if !vml]>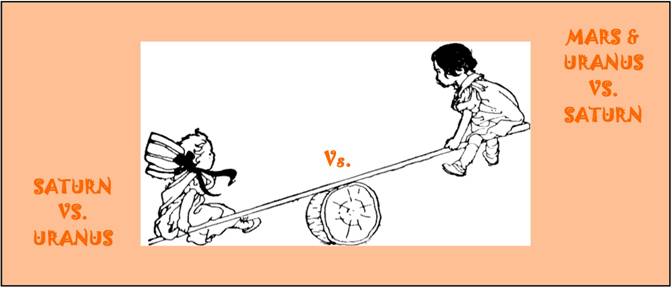 <![endif]>
So, here is the story… one of them anyway.
aturn and Uranus continue to stay in opposition. And one can easily see the manifestation in the political party tensions. Two parties working together? Who ever heard of that? Well… Bipartisan solutions? You must be crazy indeed.
Again, the pressure of these two planets (Saturn in Virgo has the upper hand now) is stressing most people to merge the conservative (Saturn) with the liberal (Uranus.) This is why you can feel it in the air. We're supposed to be working together and have gotten so used to the collective ego promptings (Republican vs. Democrat) that it's almost like we've forgotten that word UNITED in our name. Anyhow, Uranus, the stronger planet, is giving in temporarily to Saturn in Virgo because Saturn is traveling all by itself, "the bucket handle." It looks like this:
<![if !vml]>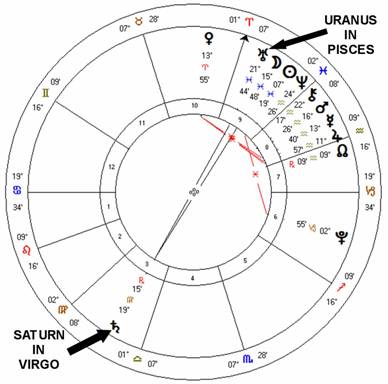 <![endif]>
Ignoring for now all the fanatical planets bunched up in Aquarius…..
When a planet is opposite all the other planets, it is kinda shaped like an umbrella, like we have now. Or like a bucket with a handle. Since SATURN IN VIRGO is sitting on the bucket handle, it has the upper-hand now. We will WANT that part of us to conquer the other extreme or at least give it favoritism for right now. However, when MARS joins up with Uranus, it will tilt the see-saw dramatically, and we will shift to the other part of ourselves. Saturn wants us to secure things or lock them down, conservatively and carefully. Uranus wants the opposite; for us to break free of the tension and find our individuality. In most cases, people let Saturn win because they hang on the boat docks, afraid to sail down the unpredictable stream with Uranus - frequently to their demise.
So, what does this mean in down to earth terms? Many of us are moody now because of this see-sawing. Note the uncertainty on Wall Street too. In general, we'll lean towards the conservative solutions at first and then towards the other around April 13th when Mars (the ever-present instigator) joins up with radical Uranus and wants something totally out of the ordinary to take over. This will last very strongly until the end of April. You may think it's taxes that have you upset, but it may well go beyond that.
That chart will look like this then:
<![if !vml]>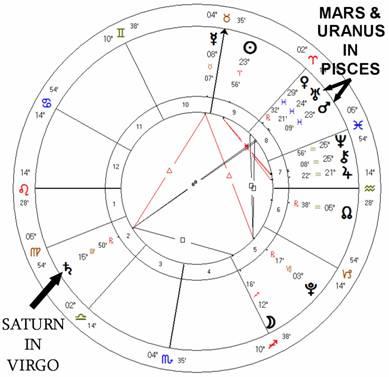 <![endif]>
Now what that will do is activate a HOUSE in a persons chart (where 21° Virgo is) from now through mid-April, then boom!, look for a shift towards the opposite house. Per Sun sign, in general, it will translate something like this for each of you:
Aries – With Saturn in your sixth, you're in the midst of working hard to develop your skills. Don't be frustrated all through April when you start demanding to be noticed for your new skill-sets. Remember, everybody else is going through abnormal amounts of frustration too, so you'd be better off waiting a month or so before you can expect to get kudos for your efforts.
Taurus - With Saturn in your fifth house and Uranus in your eleventh… You're trying real hard to express yourself more clearly. Now is a great time to perfect your creations. In mid-April, you'll feel like thinking out of the box and sharing with groups or friends. Don't stay glued to your small world or you'll feel great frustration. Your easy chair will always be there, let your hair down for a while and you'll be a lot happier then!
Gemini – With stiff old Saturn in your fourth house, you've been chained to domestic duties long enough. Keep firming up your foundation now, paying your bills, tending to family, etc. But, when April 13th comes, let it fly at work. Show people your real creative, flexible offerings of your extensive mental library. Balance home and work now - that is the key. Don't think you're going nuts around the 13th, many of us will be feeling those liberating feelings too.
Cancer – With Saturn in your third house, you've been trying hard to get a grip mentally. And this is not easy for emotional Cancer. Continue with this mental discipline; you will go far because of it. But, after April 13, get ready to break from family tradition and values and investigate thinking for yourself. The more you do, even if you get some flack, the better off you'll be. You'll also find that that flack that you have been avoiding has mostly been a creation of your own mind.
Leo – With Saturn in your second house, you've been making lots of gains in terms of your real sense of self-worth. Hoorah for you. In mid-April, you'll want to free yourself from close ones. That doesn't mean leaving someone. It simply means that you'll now be focusing on being yourself (usually not hard for Leos) while in the relationship. This isn't always easy, even for Fire signs. You'll need a keen sense of who you are, where your boundaries are, and where the other person is.
Virgo- With Saturn in your first house, the translation is similar to Leo. Self-pressures are now on you like a cheap suit, but how would you even notice? That's your middle name. The real key will be when Uranus gets activated by Mars on April 13. You really need to be flexible with your mate. Hide your job-jar for a few weeks and don't panic if the dishes aren't washed. Give yourself a break! Take a vacation. Really.
Libra – With Saturn in your twelfth, it's time to come out of your hole. For months now, Librans haven't been themselves. Pluto's square to you from the solar 4th has had you reeling emotionally. And Saturn in your twelfth has really made you crawl into a cave of wondering what the heck is going on. What's going on is that your unconscious mind is trying to get messages to your conscious mind without your social consciousness getting upset by its findings. Yes, pay attention to your dreams and hunches. For once, in April, don't worry about what others think.
Scorpio – With Saturn in your eleventh house, you've been dutiful to your friends and the groups you belong to. You are one loyal sign. As stated before, you cannot expect that kind of loyalty from many of the signs and this can lead to much disappointment. Once April comes, you will be feeling quite explosive in terms of wanting to express your own ideas. Go ahead! Don't worry that you're letting someone else down. Fly a bit; no one's going be offended, really.
Sagittarius – With Saturn in your tenth, you've hated it! Keeping your nose to the grindstone just isn't a fair thing to do to fun-loving Sag, is it? Always on the lookout for fun times, that time is mid-April with Mars and Uranus. And coming from the fourth house, this means with family. Go have a blast outside. After all, Sagittarians aren't that particular as long as it's fun, it's outside, and you have someone to share it with.
Capricorn – With Saturn having been in your ninth house for a while, you've been really working hard to integrate your philosophies. Fine. Make sure. Build that unbreakable citadel of impenetrable mental constructs but don't be surprised when El Uranus throws you a nasty Steve Carlton curveball! Get some new ideas; break new ground; it won't kill you. There's actually air outside of the box. You can integrate it all later – if you want to. You really do have f-f-f-f-freedom.
Aquarius – With Saturn in your solar eighth house, you've really been out of sorts for quite a while now. You've done your work regarding dedication to others for a good while now. April is the time for you to start recoiling back to what you want to do. What are the things you like to do that make you feel good about yourself? That's where the focus needs to be. Don't be surprised by this one; you've had fair warning. The fixed signs, Taurus, Leo, Scorpio, and Aquarius can be quite upset by Uranus which doesn't even know what the word fixed means. Even though you rule contradictions and paradoxes, you Aquarians need to go do something entirely nonsensical.
Pisces – With Saturn in your seventh house, no one's ever had to tell you to follow Alice down the rabbit hole. Saturn is tough on Pisces. You're about to get a reprieve. I know it's hard for you to think about your own needs instead of others, but that really is what you need to do. It's ok to do for you. Go swimming. Go boating. Go to the beach. Fishes. Water. Refreshment. Ah.
<![if !vml]>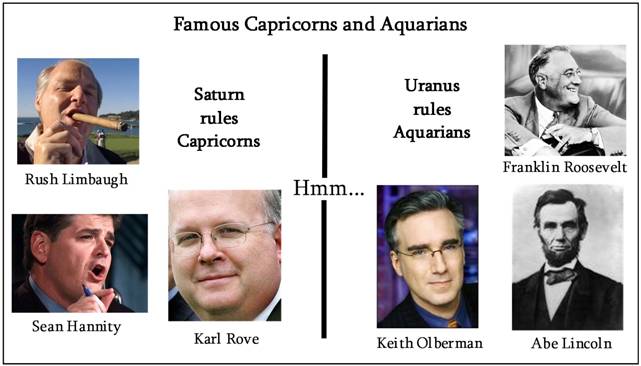 <![endif]>
<![if !vml]>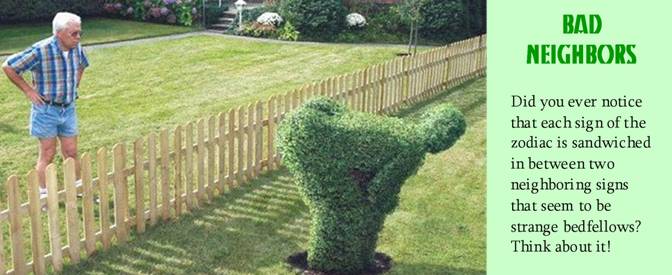 <![endif]>
<![if !vml]>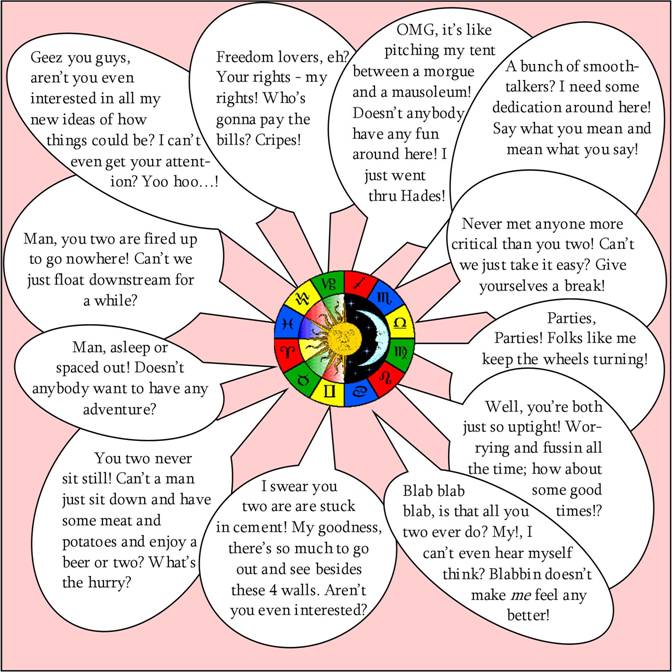 <![endif]>
<![if !vml]>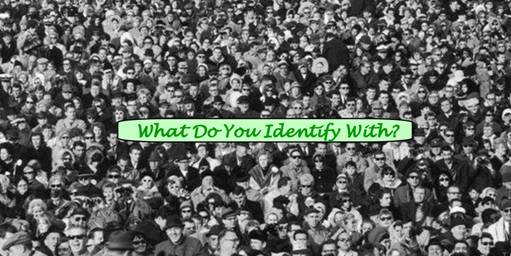 <![endif]>
As I've said before, when we listen to our Sun sign too much, it will deceive us into listening to only it. And we'll get out of balance. Astrology is clearly an art of getting ourselves into balance. Some things to think about:
Aries – With just yourself? Does it get a bit narrow? Or are you satisfied?
Taurus  - With your stuff? (Like George Carlin) Or is your stuff another person?
Gemini – With your ideas, interests? Aren't they fleeting?
Cancer – With your family? What happens when they leave?
Leo – With your performances? What if the audience is empty?
Virgo – With the things you've produced? What if you have nothing to work on?
Libra – With your partner? What if you have no one?
Scorpio – With your partner? What if they change?
Sagittarius – With your philosophies? What if no one listens?
Capricorn – With your title? What if you get sick?
Aquarius – With your freedom? What if people get distant to you?
Pisces – With your non-worldliness? What if people mistake it for not-caring?
<![if !vml]>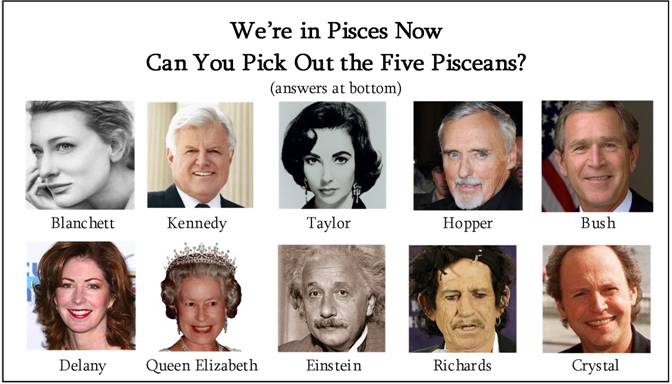 <![endif]>
…Extreme Personalities…
<![if !vml]>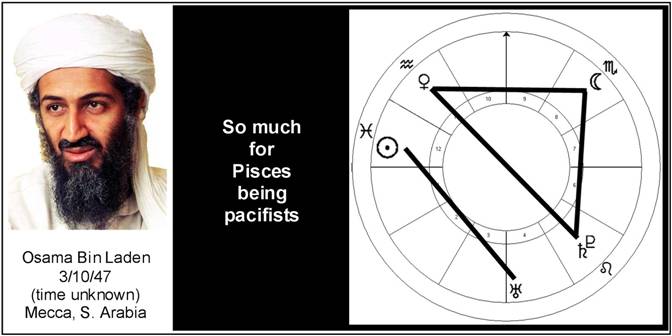 <![endif]>
<![if !vml]>

<![endif]>
3/8 Daylight Savings Time, - Turn your clocks ahead one hour
3/10 Full Moon 20° c 40' 10:38pm - This full moon will certainly light up the Saturn opposition to Uranus that's been going on since election day. We will become clearly aware of schisms that have grown in the country since then. Also, we'll start to see just how bilateral our government can be! It's no wonder Obama is talking so much about pulling all of our resources together. To repeat myself, we can't afford to let Saturn (right-wing conservatism) and Uranus (left-wing liberalism) to be so extremely at odds. We must see that they are two sides of the same coin. Look for dramatic effects to manifest vividly at this time. In the sign of Virgo, it will most likely show us how we're going to have to bite the bullet to work ourselves out of our mess. Remember, Virgo energy doesn't care for whining or blaming. Let's hope for the very best.
3/14 Mars enters Pisces - And none too soon. And none too soon. Cooler heads prevail after the ragged-edged full moon. Time to chill.
3/20 SPRING! Sun enters Aries 7:44am - This is one big deal in Western Astrology. It's a new zodiac! The entire zodiac is based on this day. 0° Aries today. A time for great beginnings and a time to not only treat yourself but to celebrate yourself! Don't take yourself or your life for granted - right?
3/25 Mercury enters Aries - Time to say what's on your mind and with Mercury squaring transiting Pluto, it might come out kind of harshly. Be careful that that is not the case. Be decisive, don't waiver now.
3/26 New Moon 6° ^ 08' 12:06pm - This new moon will be very challenging because the Sun and Moon will both be squaring Pluto in Capricorn. Another huge test for most of us including collectively. This will most likely bring questions of aggression to the fore (Aries.) It be an excellent time to launch brave new projects that represent new solutions to old problems. Be bold now and don't attempt to hide in the pseudo-safety of past harbors. It won't work. We must pick up the pioneering spirit of this new spring and Arian New Moon, doing like Captain Kirk said, (yes, William Shatner and Spock Leonard Nimoy are both Aries too!) and boldy go where no lame duck president has gone before……
<![if !vml]>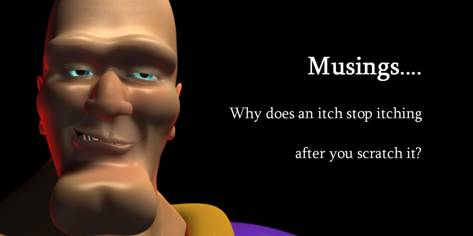 <![endif]>
<![if !vml]>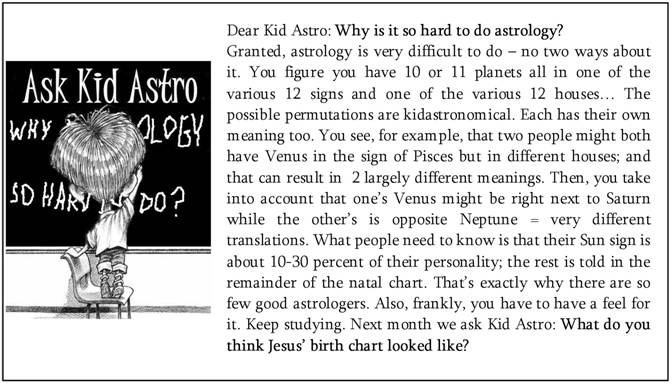 <![endif]>
<![if !vml]>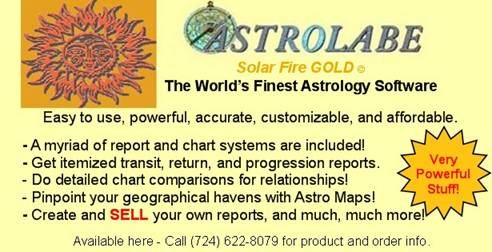 <![endif]>
Puzzle Answers: The Five Pisces
Ted Kennedy, Liz Taylor, Dana Delany, Albert Einstein, Billy Crystal
Free birth chart calculations are available at: http://www.alabe.com/freechart/
The PA Dept. of Vital Records form for ordering your birth time/birth certificate is at: www.starself.com/birthtime
Make sure to stay in touch with my web site at www.starself.com and as always, "May the planets be with you as you find your Starself!" - Rick
2009 Rick DiClemente -  www.starself.com © - All rights reserved
PERMISSION MUST BE GRANTED BY THE AUTHOR FOR USE ON WEB SITES AND FOR OUTSIDE PUBLISHING