<![if !vml]>

<![endif]>
-- Newsletter --
Volume 27, March 2008
(Download a printable .DOC version here)
Welcome to March, well, what else can I say….? Things will be very intense from March 4-7 and again around Spring, on March 20, 21. Time to get moving! Mars is here with Pluto, and that means: take action. I've been giving a lot of thought to this new Pluto in Capricorn time period. It's always so hard to explain this to the lay person, but, I see it like this:
Sometimes in life we can feel it coming… we can feel it building up… and the sense is that sometimes we just need WHOLESALE SWEEPING CHANGES IN OUR LIVES….  Now is one of those times.
Heading into a period like this is very uncomfortable for me. I feel compelled to warn people of coming tensions, etc. Yet, that's not really the purpose of astrology – to teach you when to duck. And I don't want to be a doomsayer. Astrology tells us, if we listen correctly, what TYPE of thing will be coming. It is up to so many other factors in the charts to determine what will in fact happen. March will be a month where we need to ACT. And I'm talking about acting on matters that are no surprise to us. Matters that have been outstanding and unresolved for a long, long time (Pluto.) The way the planets seem to work it this: the more we act, the more they support us. The more we don't, the reverse is true. This should come as no surprise to anyone as the "planets" are merely symbols of our own urges.
May your March be productive, fulfilling, and as uneventful as possible.
<![if !vml]>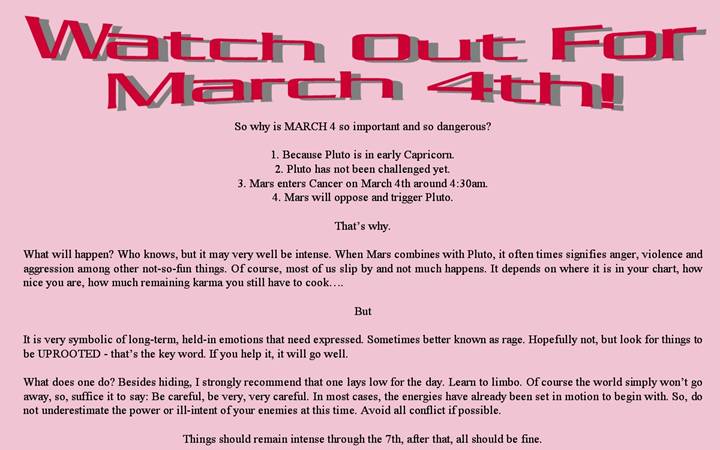 <![endif]>
Chiron Research
<![if !vml]>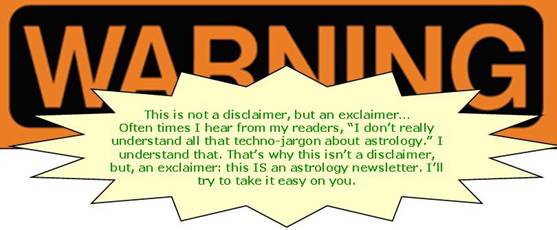 <![endif]>
In Martin Lass' wonderful book on Chiron, "Chiron – Healing Body and Soul," he describes this asteroid/comet/dwarf planet eloquently,
"It represents what we feel is most missing, unbalanced, unjust and/or most in need of correction, fixing or getting rid of in our lives. This, in return, determines what we seek in life, who we related to or not, the paths we walk, things we will attract or repel, and the destiny we will meet. In short, the natal placement of Chiron outlines our specific wounds/voids that determine our values. In addition, it encapsulates the healing path and the gifts in our wounds."
I'm keeping a very close watch on Chiron these days. Its mysterious nature of being the "wounded healer" has me mystified. It seems to push us hard towards some destiny, at times, even stronger than Pluto or Uranus. For better or worse, Chiron inspires us to do something special, in some type of attempt to heal our own "wounds." It drives many of us to be famous; others, infamous. Here are some of the notable findings I've come up with so far…
Significant Chiron natal placements (Roman numerals pertain to house numbers):
Marshall Applewhite – Leader of the Heaven's Gate cult – Conjunct Sun and Moon in Taurus (bully pulpit)
Lance Armstrong – Bicyclist, 7-time winner of the Tour de France – In Aries exactly opposite Uranus (brilliant skills)
Stephen Arroyo – Astrologer – In Libra conjunct his Mercury in VII of counseling (insightful)
Alice Bailey – Famous Theosophist – In Taurus conjunct Neptune in the public X house (publicly mystical)
Ludwig Van Beethoven – Composer – at the point of a T-square in Pisces (widely opposite Neptune)
Osama Bin Laden – Terrorist leader – Tip of T-square with Moon in Scorpio (vengeful, deadly)
Robert Blake – Actor – Square Moon/Neptune in Virgo (perverse, deceptive?)
Marlon Brando – Actor – Next to Sun and Moon in Aries (bold, masculine)
Ted Bundy – Serial killer – In Scorpio, square to Saturn/Pluto (cruelty)
George W. Bush – President – Next to his Moon in Libra (he's certainly inspired to do whatever it is that he's doing)
Edgar Cayce – Sleeping Prophet – In Aries, next to his Neptune in the seer's philosophical IX (mystical)
Wilt Chamberlain – Noted philandering NBA star – In Gemini, opposite Jupiter in Sagittarius (excessive)
Prince Charles – British royalty – In Scorpio, next to his Sun (power)
Ray Charles – Musician – In Taurus, opposite Venus in Scorpio (earthy, yet passionate)
Seung-Hui Cho – Virginia Tech Killer – Went off when Chiron squared his Saturn exactly (violence)
Winston Churchill – British Prime Minister – In ARIES, OPPOSITE MARS AND JUPITER (warlike)
Bill Clinton – President – In between his Venus and Jupiter in Libra (social charmer)
Jeffrey Dahmer – Serial killer – Opposite Pluto, square his Sun in Gemini (perverse, twisted)
Charles Darwin – Naturalist – Next to his Sun in Aquarius (revolutionary)
Miles Davis – Musician – In Taurus, next to his Venus in Aries (earthy, yet jazzy)
Princess Diana – British royalty - In Pisces, opposite Mars, Uranus, & Pluto! (precursor to the accident?)
Walt Disney – Visionary – In Capricorn, next to Mars and opposite Neptune in the X (imaginary land!)
Jane Fonda – Actress/Activist – In Gemini, opposite Sun in Sagittarius (outspoken, political)
Joe Frazier – Former heavyweight boxer – At the tip of a T-square in Virgo (power and skill, quick)
Mahatma Gandhi – India's political leader – In Aries, opposite Sun in Libra (tactful, but daring)
Joseph Goebbels – Hitler's propaganda minister – In between Mars and Uranus in Scorpio (anything goes)
Billy Graham – Evangelist – Tip of a T-square in Pisces on the ascendant from the Moon and Pluto (passionate, inspired)
Tom Hanks – Actor – In Aquarius, opposite Moon in Leo (lively creativity)
Tonya Harding – Skater – In Aries, opposite Pluto (must finish first)
George Harrison – Musician – In Leo, next to the North Node (destiny) in the public X (affecting the masses)
Stephen Hawking – British theoretical physicist – In Leo, next to Pluto (deep insight)
Hugh Hefner – Editor of Playboy Magazine – In Aries, next to his Sun (daring, ground-breaking)
Ernest Hemingway – Author – Between Saturn and Uranus in Sagittarius (orthodox, unorthodox)
Jimi Hendrix – Musician – At the tip of a T-square in Leo, in VIII, next to the North Node in Leo! (pure fire!)
Audrey Hepburn – Actress – Next to Sun in Taurus (radiant)
Heinrich Himmler – Chief of Hitler's Gestapo – Opposite Pluto and between Uranus and Saturn in Sag (cruel)
Adolf Hitler – Dictator – In IX, next to North Node, opposite Moon/Jupiter in Capricorn (rule the world?)
   Died when Chiron squared natal Chiron
Jimmy Hoffa – Union leader – Disappeared when Chiron squared his Mars/Neptune
Natalee Holloway – Teen disappeared in Aruba – Went missing as Chiron crossed her Mars (men)
Harry Houdini – Illusionist – Next to Sun in Aries (daring)
John Paul II – Pope – In Aries in VI (service) trine to Neptune (divinely inspired)
Michael Jackson – Singer/dancer – In Aquarius, opposite Venus/Uranus, nuf said (electric, kinky?)
Thomas Jefferson – President – Next to Neptune in Cancer (visionary Father of the Country?)
Martin Luther King – Reverend/political leader – In Taurus, next to Jupiter (inspirational)
Carl Jung – Psychologist – Next to Neptune (dreams)
Garry Kasparov – World Chess Champion – Opposite Pluto in Virgo (analytical)
Helen Keller – Author/activist - Next to Neptune in the VI of health (inspired)
Dalai Lama – Exiled Tibetan leader – Point of T-square in the XII (spiritual)
Mario Lemieux – Hockey great – Opposite Uranus/Pluto in Virgo (physical skills)
Carl Lewis – Olympic Track Star – Opposite Mars/Pluto in Virgo (physical skills)
Vince Lombardi – Legendary NFL football coach – Opposite Moon in Virgo (discipline)
Niccolo Machiavelli – Italian diplomat/philosopher – Opposite Jupiter (statesman)
Charles Manson – Cult leader – In Gemini, square to Mars/Neptune (delusional, megalomaniac)
John McCain – Presidential Candidate - Opposite Jupiter (political)
Paul McCartney – Beatle – Between Moon and Pluto in Leo (creative expression)
Marilyn Monroe – Actress – In Taurus, next to Venus at the midheaven (beauty and popularity)
Isaac Newton – Scientist – In Gemini, opposite Mercury (powerful intellect)
Nostradamus – French Seer – On the same axis with Neptune, Venus, & Mars (charismatic)
Jackie Onassis – First Lady – Next to the North Node and the descendant (famous husbands)
Scott Peterson – Murderer – In Gemini, opposite Mars/Uranus in Libra (smooth-talking, but deadly)
Pablo Picasso – Painter – Between Jupiter and Neptune in X (artistic inspiration)
Jonbenet Ramsey – Murdered American child – Conjunct Venus, opposite Saturn (cruelty)
James Redfield – Author of "The Celestine Prophecy" – In Sag in IX (inspirational author)
Jean Renoir – French Impressionist painter – Next to his Sun in Virgo (highly skilled)
Gary Ridgway – Green River Killer – Point of T-square from Mars & Saturn (cruelty)
Dane Rudhyar – One of the world's greatest astrologers – Opposite his Aries Sun (astrological skills)
Marquis de Sade – French aristocrat – Next to Jupiter and Neptune in Gemini (daring and perverse)
George Bernard Shaw – Irish playwright – Opposite Sun/Venus in Aquarius in IX (brilliant and literary)
Karen Silkwood – Industrial whistleblower – Between Jupiter and Moon in Libra in I (inspired to do what's right)
   Mysteriously died EXACTLY when Chiron opposed natal Chiron
Frank Sinatra – Singer – Next to Jupiter in Pisces in V – (smooth expression)
Britney Spears – Singer – In VIII, square to Moon in Aquarius (deep emotional wounds?)
Barbra Streisand – Singer – Between Moon/Pluto in Leo (creative powerful expression)
Jimmy Swaggart – Evangelist – In Gemini, square to Neptune (inspired?, deluded?, scandalous?)
Mother Teresa – Nobel prize winning Catholic nun – In Pisces, opposite her Sun/Mars in Virgo (Grand Service)
Donald Trump – Tycoon/entrepreneur – Next to Jupiter (profitable?, excessive?)
Mike Tyson – Boxer – Next to Saturn (tough)
Marianne Williamson – Author – Opposite Sun/Venus/Uranus in Cancer (New Age leader?)
Oprah Winfrey – TV Hostess, actress – Next to North Node and opposite Uranus (renaissance woman)
Jonathan Winters – Comedian – In Aries, opposite Mars (daring)
Steve Winwood – Musician – Exactly opposite his Sun in Taurus (passionate)
Tiger Woods – Golf great – Tip of T-square in Aries next to Jupiter (daring, powerful, confident)
Yogananda – Indian saint – Square to Neptune and Pluto (compelled)
Neil Young – Musician – Between Jupiter and Neptune in Libra (inspired)
<![if !vml]>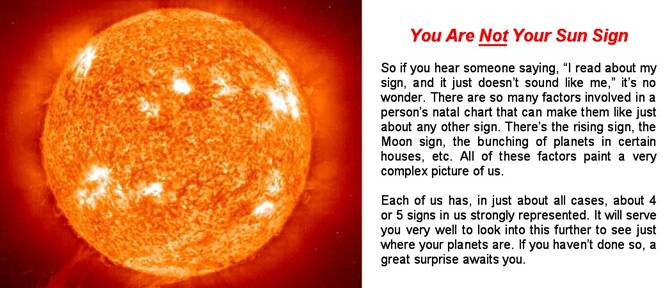 <![endif]>
<![if !vml]>

<![endif]>
<![if !vml]>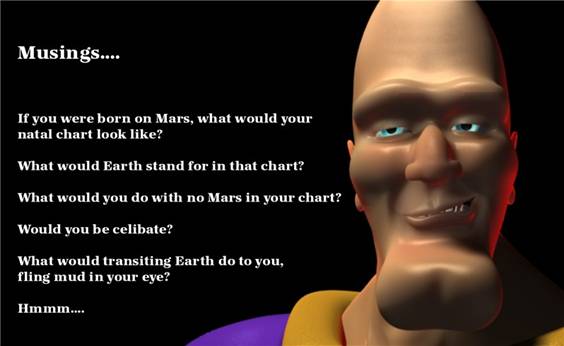 <![endif]>
<![if !vml]>

<![endif]>
If you'd like to look up yours, click here  http://www.cafeastrology.com/sabiansymbols_degreemeanings.html
<![if !vml]>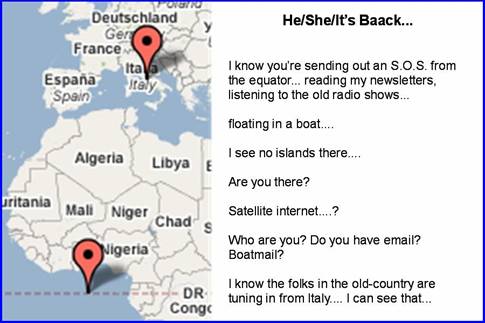 <![endif]>
<![if !vml]>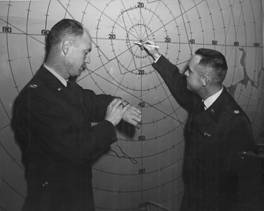 <![endif]>Following Up on the Newlyweds…
You'll recall I picked the time and date for a couple's wedding (electional astrology) back in October. What a funny story.
Anyhow, the couple is doing fine and are well into wedded bliss… a funny thing happened as a follow up on that story:
It seems at the time of the wedding, I was sitting next to a woman who somehow didn't seem to happy with me. I found out later that she was related to a member of the bridal party and that she didn't appreciate that I kept checking my watch every minute or so. - - - Every few seconds actually.
--- March Happenings ---
<![if !supportLists]>· <![endif]>Two-Part Astrology Basic Overview: Community College of Allegheny County, Allegheny Campus
www.ccac.edu Tuesday, March 4 and Tuesday, March 11, , includes a detailed reading
(412) 237-2700
<![if !supportLists]>· <![endif]>Feng Shui and Astrology – with Rick and Fawn Chang. Have your chart read and get Feng Shui tips accordingly!
The Open Mind Bookstore, www.theopenmind.com  Friday, March 7, 7-10pm, $35, 439 Beaver St., Sewickley, PA  (412) 741-1888
<![if !supportLists]>· <![endif]>Allante Hair Design and Spa: "Your Sun-Sign and Your Relationships" Astrology Workshop
www.allantehair.com Wednesday, March 12, , $15, includes a free mini-reading
160 Stark Ave., Greensburg, PA (724)836-3600
<![if !supportLists]>· <![endif]>The Spring Fling – Psychics and Readers, Rex Theatre, Sunday, March 16,
      1602 E. Carson St., Pittsburgh, PA sponsored by Journeys of Life and The Open Mind
<![if !supportLists]>· <![endif]>Mesa Live – Live In-the-Round Intuitive Astrology Readings! In a "John Edwards" setting
      Mesa Creative Arts Center, www.mesacreativearts.com, Friday, March 21, , $30
      30 Miller Business Park, Burgettstown, PA (724) 947-3097
<![if !vml]>

<![endif]>
<![if !vml]>

<![endif]>
<![if !vml]>

<![endif]>
<![if !vml]>

<![endif]>Pisces of Interest and Astrological Musings…<![if !vml]>

<![endif]>
<![if !vml]>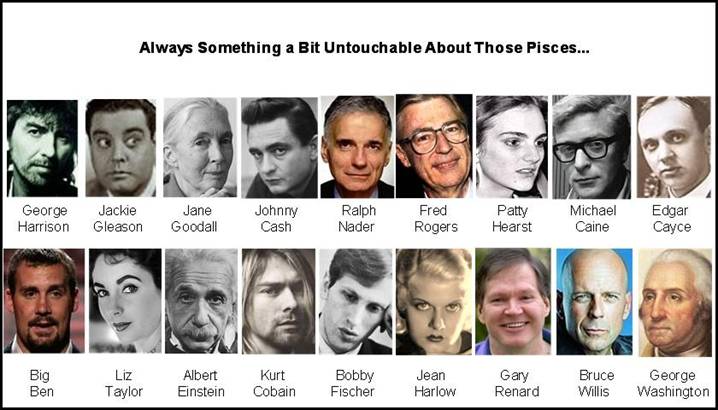 <![endif]>
<![if !vml]>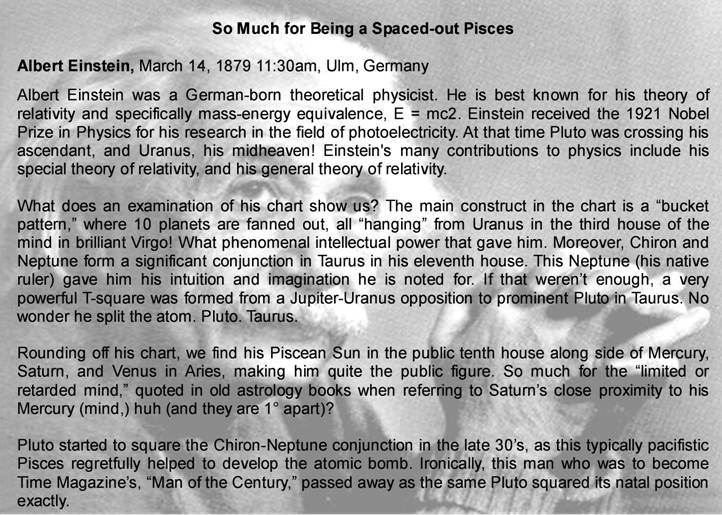 <![endif]>
<![if !vml]>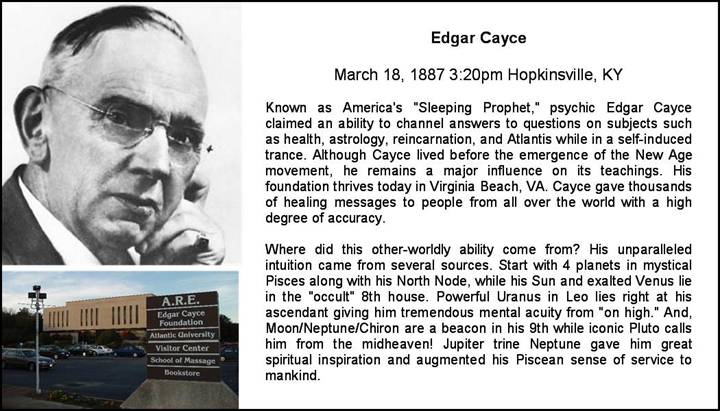 <![endif]>
<![if !vml]>

<![endif]>
<![if !vml]>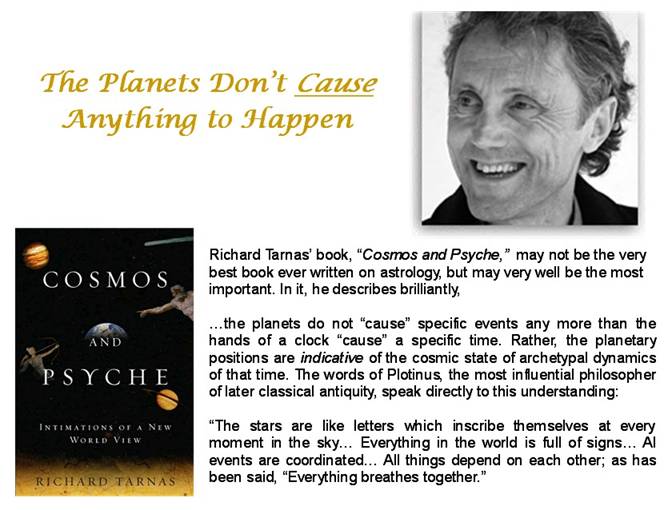 <![endif]>
<![if !vml]>

<![endif]>
<![if !vml]>

<![endif]>
<![if !vml]>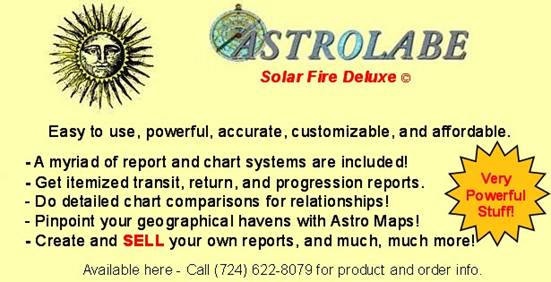 <![endif]>
Free birth chart calculations are available at: http://www.alabe.com/freechart/
The PA Dept. of Vital Records form for ordering your birth time/birth certificate is at: www.starself.com/birthtime      
Make sure to stay in touch with my web site at www.starself.com and as always, "May the planets be with you as you find your Starself!"
Rick
2008 Rick DiClemente -  www.starself.com™ - All rights reserved
PERMISSION MUST BE GRANTED BY THE AUTHOR FOR USE ON WEB SITES AND FOR OUTSIDE PUBLISHING